This year's Artcontext Calendar edition features hundreds of animal logos from the project Wildlife Offline,  a Net Art collection on the Artcontext website. Reflecting the cuteness of media images of endangered animals, the collection highlights the way virtual imagery is supplanting the natural world as a basis for understanding wildlife.  An appendix  indicates which of the species are considered critically endangered, endangered, and vulnerable.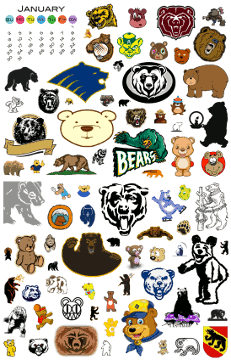 Conceived, designed, retouched, illustrated, tested, printed, folded, stapled, and mailed by the artist, Andy Deck, with help from many online contributors.  The calendar can be ordered or downloaded for printing.
Interior sheets are 30% recycled post-consumer fiber. Acid-free, chlorine-free cover stock, 10% post-consumer fiber. Forest Stewardship Council certified sources. Made in the USA.